Impact of COVID-19 on American Indians
Article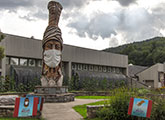 American Indians and Alaska Natives (AI/AN) account for 0.7% of the population in the United States, but they have been disproportionately affected by the COVID-19 pandemic. These statistics are reported by the COVID Tracking Project and the Boston University Center for Antiracist Research, which compile race and ethnicity data for the COVID-19 pandemic from every state and territory that reports it. In the U.S., American Indians and Alaskan Natives have the second-highest rate of infection with COVID-19, as well as the second highest rate of death from COVID-19; Indigenous Americans are dying from COVID at twice the rate of white Americans.
The Centers for Disease Control and Prevention (CDC) has reported that American Indian and Alaskan Native populations are more than three-and-a-half times more likely to have been affected by COVID-19 than white individuals. In New Mexico, Native Americans comprise 10% of the population, but they represent 55% of the COVID-19 cases. Similarly, Indigenous people make up less than 3% of Wyoming's population but represent 34% of the COVID-19 cases.
In January 2021, one year after the virus hit the U.S., the COVID-19 infection rate for Native Americans was 7,341 cases per 100,000 people, compared to 3,897 per 100,000 among white people. The death rate for Native Americans was 142 per 100,000 people, compared to 100 per 100,000 for white people.
Factors in Racial Disparities
Already known racial and ethnic inequalities in health and socioeconomics have likely contributed to these grim pandemic statistics. Native people are three times as likely as non-Hispanic white people to have diabetes and more than one-and-a-half times as likely to have heart disease; these health issues may increase the risk of severe disease and/or death due to COVID-19. Other factors that may have influenced the transmission and excessive number of COVID-related hospitalizations and deaths within the AI/AN population include
high rates of poverty, unemployment, and food insecurity
geographic rurality and remoteness of reservations
limitations in the delivery of health services
increased household size
reliance on shared transportation
limited access to running water
inadequate electricity and internet connectivity
Response to COVID-19
The U.S. government maintains a relationship with federally recognized American Indian tribes and Alaska Native entities, and a multidisciplinary Indian Country COVID-19 Response Team was created as part of the President's Coronavirus Task Force. The U.S. government is obligated by treaty to provide medical care to members of all federally recognized tribes, and the Indian Health Service (IHS) provides for nearly 2.6 million American Indians and Alaska Natives belonging to 574 federally recognized tribes in 37 states. The IHS has worked with tribal and urban Indian health facilities to promote awareness of COVID-19 and its related guidelines, protocols, and processes. The IHS is also in constant communication with the federal government and the CDC in order to:
attain priority access to rapid COVID-19 testing systems
distribute testing equipment and supplies
provide personal protective equipment
allow access to the Strategic National Stockpile of potentially life-saving pharmaceuticals and medical supplies
provide funding for the COVID-19 response
expand telehealth services
deploy supplemental staffing
distribute investigational and approved treatments
Working closely with the IHS, the CDC has developed a COVID-19 Tribal Support Unit, which offers health and risk communications, community mitigation, contact tracing, mapping, epidemiology and surveillance support, data collection and analysis, infection prevention and control, and response management.
In November 2020, the IHS announced a COVID-19 Pandemic Vaccine Plan which detailed how the IHS will prepare for the distribution of COVID-19 vaccines, but tribal leaders have expressed concerns about the logistics of staffing, transportation to vaccine administration sites on remote reservations, power supply for refrigeration of supplies, and access to running water. Another challenge is a historical mistrust in medical providers, institutions, and research. Drug manufacturers have struggled to provide culturally appropriate communications and to maintain adequate representation of American Indians and Alaska Natives in vaccine trials. However, a survey by the Urban Indian Health Institute found that about 75% of those asked would be willing to get a COVID vaccine, compared to about 56% of the U.S. population.
Combating COVID
Health experts, medical providers, and tribal leaders suggest the following will need to be done to mitigate the ongoing impact of COVID-19 on AI/AN people:
rectify the underfunding of the IHS and correct the inequalities of health care expenditures between the general US population and AI/AN people
ensure proper electricity and broadband connectivity with access to telehealth in AI/AN communities
provide rapid allocation of funds to tribal communities on reservations through the Coronavirus Aid, Relief, and Economic Security Act
administer cultural literacy training specific to the AI/AN population to health care providers/caregivers and expand culturally appropriate behavioral health resources
improve data collection with proper reporting of AI/AN race (the interpretation of the COVID-19 data from the CDC is currently limited since findings were reported after compiling data from only 23 states for the first half of the year due to inadequate reporting of race/ethnicity or misclassification of race/ethnicity)
achieve better representation of AI/AN people in COVID-19 therapeutic trials
On February 2, 2021, President Joe Biden signed a disaster declaration to aid the Navajo Nation's response to COVID. The declaration will provide support for vaccination, medical staffing, and resource and equipment requests in the Navajo Nation. In March 2021, Biden signed the American Rescue Plan. The bill provided $1.75 billion for the Bureau of Indian Affairs (BIA) and the Bureau of Indian Education (BIE) to support tribal governments and social services, as well as education, amid the pandemic.
Impact
The COVID-19 pandemic has demonstrated that the IHS has been drastically and chronically underfunded, while pandemic emergency funding for tribal communities on reservations has also been difficult to attain. Behavioral health issues (particularly substance abuse and suicide) within the AI/AN population have become even bigger problems than before. Though necessary, the public health measures (including closure of 245 casinos) required by COVID-19 have devastated tribal economies that lack traditional tax bases and depend entirely on business enterprises and government revenues. Pandemic lockdown measures on reservations have also caused some tension between state governments and tribal leaders. Some tribes, such as the Cheyenne River Sioux in South Dakota, maintained a prolonged lockdown and instituted health screening for every person attempting to enter the reservation. The government of South Dakota argued that the tribe didn't have the authority to restrict visitors and told the tribe to remove the checkpoints. The Cheyenne River Sioux then sued the federal government in a legal attempt to confirm their sovereign authority (the tribe's ability to govern themselves), and the lawsuit is still in progress.