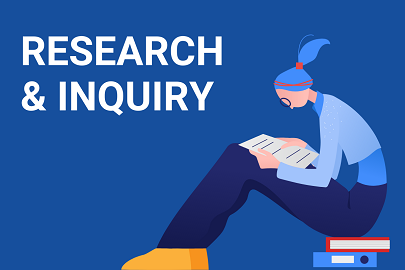 Research & Inquiry
Welcome to the Research & Inquiry topic page. These resources are designed to spark deeper dialogue around teaching research and inquiry across the curriculum. Explore how to support learners in growing from mere consumers of information to independent thinkers and investigators, and receive regular inspiration on ways we can collaborate to create a culture of inquiry in our schools.
T
ypically, our students begin their school careers as preschoolers or kindergartners brimming with questions that overflow into every interaction. Sadly, somewhere along the way they lose that zest for wanting to know...everything. The constant questioning dwindles to a trickle until getting students to ask questions feels like shouting into the void. While I find that trend to be disheartening on many levels, it is especially difficult when approaching inquiry.
Questions are the heart and soul of inquiry
. Without questions, our inquiry has no purpose, no direction. It is easy to supply students with ready-made questions for the sources we provide them, but this does not encourage ownership or engagement. To develop a culture of inquiry, students need encouragement not only on the asking of questions, but also on the how of asking and using questions effectively.
Read More >>