Commentary
Author: Susan Lewis, a sustainability project manager with a PhD in energy and environmental policy
Description: This commentary argues that an international approach is the best way to fix the Great Pacific Garbage Patch.
Context and Things to Consider:
Consider what the author says about the Great Pacific Garbage Patch as an international problem.
Note what the author writes about who is responsible for the pollution that forms the patch. Why is this important?
According to the author, why can't local-level policy fix the problem of the GPGP and prevent it from happening again?
An International Solution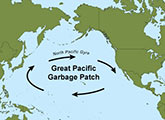 The Great Pacific Garbage Patch (GPGP) is an enormous collection of marine debris swirling in a gyre in the central North Pacific Ocean, a region well beyond recognized national boundaries. Most researchers agree that the GPGP is at least as large as the state of Texas. Some estimates indicate double that size. The area is frequently featured in media reports as an extreme example of marine pollution. The GPGP is fundamentally an international problem and one without precedent or clear solution. It is international in scope and source, and any solution must also be an international effort.
Due to the location, size, and potential cost of cleanup efforts, large scale, international-level policy is needed. Local efforts, such as bans on plastics and pollution-control measures, can help make progress toward the overall goal, but this is not enough to resolve the problem. The solution and relevant policies—for cleanup today and prevention into the future—must be international in scope.
Whose Responsibility Is It?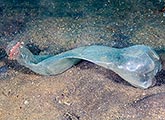 The GPGP is located in a part of the Pacific Ocean that is beyond national boundaries. The United Nations Convention on the Law of the Sea (UNCLOS) establishes boundaries for political sovereignty in the ocean at 200 miles from a coastline, but the patch is too far from any one coastline to fall under the jurisdiction of any one nation. As such, the region is not under any jurisdiction and responsibility for the massive area falls to no single country; any relevant national laws cannot be enforced. Marine debris drifts past political and geographic boundaries, so local, state, and/or national legislation is simply insufficient. It is simultaneously the responsibility of no one, and everyone. Since no one nation has authority or responsibility for pollution in the Pacific Ocean, however, nations lack motivation to try to solve the daunting problem alone. Many countries share blame, many countries share responsibility for resolution, and much work is needed.
Another issue is that no single consumer or producer of plastic "owns" the oceans or is identifiably responsible for the GPGP. There is a huge coordination challenge due to scope and location, plus a challenge in determining responsibility and appropriate authority. The EPA has reported that, after many studies and reviews, it is very difficult to identify precise sources of plastics due to degradation and fragmentation at sea. This adds to the overall challenge of the problem. Some national, state, and local laws involve marine debris and show some potentially successful ways to deal with plastic marine debris reduction, but none are direct nor a silver bullet solution for the GPGP. Currently, there are no treaties or laws that sufficiently combat this problem; there is a clear need for such policy.
International Policy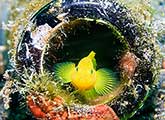 Besides UNCLOS, two other international agreements are relevant to the GPGP: The Washington Declaration on Protection of the Marine Environment from Land-Based Activities and Global Programme of Action for the Protection of the Marine Environment from Land-Based Activities (GPA). The GPA aims to prevent the degradation of marine environments from land-based activities by raising nations' awareness of their duty to preserve and protect the marine environment. It is the only global initiative that directly addresses the connection between terrestrial and coastal/marine ecosystems. The GPA is designed to target major threats to marine and coastal environment health as related to or resulting from land-based human activities. It proposes a holistic ecosystem approach based on commitment to action at all levels, from local to global. This sort of proposal, addressing the responsibility of the international community, needs to be put into action.
Managing the GPGP is not only about cleaning up the existing mess, but preventing it from worsening or happening again once resolved. Efforts for both parts of this must be based on international policy, with state and local support. Oceanic pollution is not only from our coastlines, but also from international shipping lanes, vessels traveling through international waters, and more sources. Local-level policy making cannot address those factors, indeed only international policy can. Part of any policy addressing the GPGP must address clean-up efforts. The cost of such a project is further evidence of the need for international attention. It is very difficult to estimate due to a host of factors, but the National Oceanic and Atmospheric Administration (NOAA) loosely estimates a cost of $5,000–$20,000 per day, or a range of up to $489 million for one year. That estimate is only for boat time; it does not include equipment or labor costs. This is a huge fiscal burden, requiring international cooperation.
The solution to the GPGP lies in cleanup, removal, and long-term prevention. Every plastic user has some responsibility for proper use and disposal. The international problem of the GPGP requires an international focus and solution—individual behavior and local policies are not enough for a problem this large.
Susan Lewis
Susan Lewis is a sustainability project manager. She earned her PhD in energy and environmental policy from the University of Delaware. She holds two Master of Science degrees, in environmental education and coastal zone management, and is a LEED AP. Her professional work experience spans a spectrum from working with endangered sea turtles on Florida's coasts to working with college campuses on sustainability and greening.