Commentary
Author: David E. Newton, author with an EdD in science education from Harvard University
Description: This commentary argues that local action is the best solution to remove pollution from the Great Pacific Garbage Patch.
Context and Things to Consider:
In the opening paragraph, consider what the author means by "local" authorities.
Why does the author think that an international solution for the Great Pacific Garbage Patch is unworkable?
Consider some local actions that the author lists, and think about how each of these may help solve the problem of the Great Pacific Garbage Patch.
Local Action is the Best Solution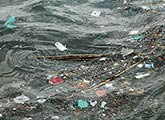 The Great Pacific Garbage Patch (GPGP) is one of five regions in the world's oceans characterized by a substantial collection of waste materials, more than three-quarters of which are plastics. Scientists currently know relatively little about the ways in which such areas form, their detailed composition, or how they can be cleaned up. In some ways, the most logical solution for dealing with these "oceanic garbage patches" is with international or regional efforts, in which a number of nations work together to remove the pollution. A solution of this scope is unrealistic. The best immediate approach to dealing with the GPGP and other oceanic wastes is with local action. This essay explores some of the ways in which individual nations, state, and local municipalities can take actions that will help alleviate the problem of oceanic garbage patches.
An International Approach Will Not Work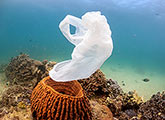 Many environmental problems are international in scope. For example, climate change is an issue that arises out of the actions of most countries around the world and that affects every nation worldwide. Some international agencies already exist with the capability of dealing with such worldwide issues, such as the World Meteorological Organization (WMO) with regard to climate change. In addition, international agencies such as the United Nations are often able to create agencies able to deal specifically with such problems. Another approach is for nations to discuss such problems and form new organizations and mechanisms for attacking worldwide environmental issues. For example, the Montreal Protocol on Substances that Deplete the Ozone Layer, adopted in 1987, has turned out to be an extraordinarily successful way of dealing with the depletion of Earth's ozone layer.
This approach is unlikely to be successful, at least in the short term, in dealing with oceanic garbage patches. No international organization or treaty exists with the authority to deal with this problem. For example, the United Nations Convention on the Law of the Sea does deal with problems of marine wastes, but only for regions within 200 miles of land. Because of this deficiency, many experts now believe that the best approach to dealing with marine debris in garbage patch areas is through local actions, such as bans on the use of plastic bags, restrictions on the disposal of plastic wastes, and taxes on the use of plastic materials.
Local Actions That Are Working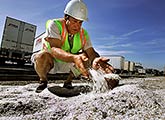 Although they do have limited effects, these approaches are valuable because they attack the source of the oceanic pollution seen in the GPGP. The less plastic used, the less is released into the environment, and the less is likely to end up in ocean sinks like the GPGP. Some examples of the local actions that have been taken are the following:
In 2007, the state of California passed a law creating a commission to monitor and regulate the release of plastic nurdles. Nurdles are tiny pellets of plastic used in the manufacture of a host of plastic products. The goal of the law was to reduce the number of nurdles released into the environment.
Eight states—California, Connecticut, Delaware, Hawaii, Maine, New York, Oregon, and Vermont—have banned single-use plastic bags, in addition to scores of cities, towns, waste management districts, and other municipal districts across the U.S. The basis for these bans is often concern over the threat plastic bags pose to marine animals in addition to their general contribution to the creation of oceanic garbage patches. Some other countries that have banned plastic bags include Chile, China, France, Haiti, Italy, Ivory Coast, New Zealand, Rwanda, Tanzania, Madagascar, and South Africa.
In 2007, San Francisco became the first city in the United States to require that all plastic bags used in the city be recyclable. The goal was to reduce the likelihood that plastic materials would end up in waste disposal sites or other locations from which they might be transported to the ocean. A number of other cities, including Chicago, New York, and Philadelphia, have chosen to adopt similar recycling laws in preference to outright bans on plastic bags.
Some nations, states, and local municipalities have instituted taxes on the use of plastic bags. The first such tax was imposed in Denmark in 2003 and has been credited with reducing the use of plastic bags by two-thirds in the nation. A similar tax in Ireland is credited with reducing the use of such bags by 90%. In 2008, Seattle was the first city in the United States to adopt such a tax, although it was later overturned in a citizen's referendum and replaced by an outright ban on plastic bags in 2012.
Ocean Conservancy annually sponsors an International Coastal Cleanup Day, in which volunteers pick up trash on the world's beaches. In 2021, more than 1 million volunteers around the world picked up more than 5 million pounds of trash. In the more than 30 years that the Ocean Conservancy has been in operation, more than 300 million pounds of trash has been picked up.

Local actions are unlikely to provide the ultimate solution to oceanic garbage patches like GPGP. They do hold the promise, however, for a short-term effective way of dealing with the problem, in the absence of collective international action.
David E. Newton
David E. Newton is an author who has published numerous books, scholarly publications, and articles on chemistry and other science-related topics. He has taught mathematics, chemistry, and physical science in Grand Rapids, Michigan and was also professor of chemistry and physics at Salem State College in Massachusetts for 15 years. He is the author of more than 400 textbooks, encyclopedias, resource books, research manuals, laboratory manuals, trade books, and other educational materials. He has written more than a dozen books for ABC-CLIO, including The Climate Change Debate (2020), Natural Disasters (2019), The Opioid Crisis (2018), Marijuana: A Reference Handbook (2017), and The Global Water Crisis (2016). He has also served as an updating and consulting editor on a number of books and reference works. He holds an MA in education from the University of Michigan, and an EdD in science education from Harvard University.