Image
Artist: Weimer Pursell for the Office of Price Administration
Description: This World War II–era government poster produced in 1943 encouraged gasoline rationing by showing a man driving a car alone, with the outline of Adolf Hitler beside him.
Context and Things to Consider
During World War II, consumer goods were tightly rationed.
Note the depiction of Hitler beside the driver and consider the emotions that such a poster would appeal to.
What was the underlying message of this poster?
"When You Ride ALONE You Ride with Hitler!" rationing poster (1943)
A 1943 poster declares "When you ride ALONE, you ride with Hitler! Join a car-sharing club TODAY!" to encourage the public to conserve gasoline, a rationed item in the United States during World War II. The poster implies that, by unnecessarily using gas, civilians would be helping the enemy. During the war, the U.S. military was given priority for use of such materials as gasoline, and civilian use of gas was strictly rationed. In addition to encouraging carpooling to conserve gas, the speed limit was lowered to 35 miles per hour, and the gas allotment for leisure travel was restricted to two gallons per week. Poster by Weimer Pursell for the Office of Price Administration.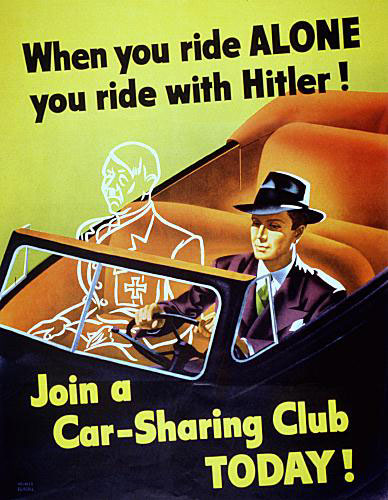 [National Archives]