Reference
Author: James F. Carroll, professor of history at Iona College
Description: This reference entry covers the rationing of such resources as gasoline and rubber during World War II.
Context and Things to Consider
Pay attention to the reasons used to support rationing.
Consider the impact of food rationing and other measures taken to ensure food production for families.
How did the rationing of goods such as gas and rubber impact the war effort?
Rationing during World War II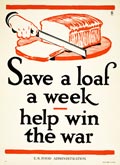 With the entry of the United States into World War II, it was clear to U.S. government officials that a nationwide system of rationing scarce resources would be needed to ensure that both military and civilian needs were met. President Franklin D. Roosevelt appointed a team of experts, including Bernard Baruch and John Kenneth Galbraith, even before U.S. entry into the conflict. Roosevelt charged them with creating a system that promoted "equality of sacrifice" among the American people. The hastily imposed system coupled with traditional hostility to direct government intervention produced a complicated bureaucracy that was prone to evasion and abuse.
Food and Clothing
Starting in April 1942, every American was assigned 48 points in ration coupons that were to be used to purchase clothing, food, and other scarce commodities. The Office of Price Administration (OPA), the government body responsible for policing and monitoring the rationing system, determined point values for various goods based on demand for a given item. These point values could vary from month to month. Moreover, under the General Maximum Price Regulation the OPA fixed all prices at the highest prices charged for an item in March 1942 to limit inflation. The point and price systems were the essential components of the U.S. rationing system during the war.
Ration points were monitored by coupons used to purchase items from local stores and businesses. The ration books were issued either to family units, where the number of points was determined by the number of people living in the household, or to individuals. In terms of food, red stamps (meats, butter, cheese, etc.) and blue stamps (fruits, vegetables, processed foods, etc.) were exchanged at the point of purchase. Ration books were issued twice a year, and coupons had to be used within a specified period of time to avoid hoarding and sudden shortages. Many local schools were used as distribution centers for ration books. During the war, most American families made dietary sacrifices. However, "victory gardens," which were producing 40% of American vegetables by 1945, and practical adaptations, such as the emergence of the popular macaroni and cheese produced by Kraft Foods and a special 1943 issue of Good Housekeeping on quality cooking and the ration system, alleviated any great hardships. In addition to food restrictions, clothing was also apportioned. For example, the average family was only able to purchase shoes every three to four months, and most women were deprived of nylons for the duration of the war.
Fuel and Rubber
The rationing of automobile fuel and rubber tires, however, created both confusion and resentment. In late December 1942, the government banned the sale or rubber tires. This draconian order came in the wake of the Japanese victories in Malaya and Indonesia from which the United States imported 75% of its crude rubber. On May 15, 1942, the United States started to ration gasoline as much to conserve rubber as to stockpile petroleum. The amount of gasoline per household was limited to five gallons per week for nonessential categories, who were given an "A" sticker. Supplemental allowances were given to essential workers, such as industrial workers, doctors, clergymen, and the like, who were awarded a "B" sticker, and unlimited mileage went to those who possessed an "X" sticker. While government officials attempted to rationalize fuel distribution, ensure relative equality, and impose heavy fines for fraud, many Americans complained about the arbitrary nature of the allowances and questioned the validity of supplemental fuel awards.
Effects and Impact
While most Americans were good-natured and understood the need for rationing scarce commodities during the war, they were also willing to pay inflated prices to obtain goods on the black market, which operated in every city and town. Despite earnest attempts to restrict these underground markets, they existed throughout the war and were well utilized, especially during holiday periods.
Overall, the rationing system in the United States was fair, equitable, and successful. The nation was able to outfit and support 12 million men and women serving in the military, to provide its wartime allies with essential materials, and to ensure that American civilians were able to purchase the basic necessities of life. While there were some intense shortages of certain items at various points, these were usually short-lived. The system avoided additional hardships and assisted in the rational distribution of vital commodities. The rationing system ended in 1946.
James F. Carroll
Dr. James F. Carroll is associate professor of history and chair of the Department of History at Iona College in New Rochelle, New York. He teaches courses on American Indian history and the history of the American West. Carroll's particular research interests include Native American history and education and pedagogy. He is the author of Seeds of Faith: Catholic Indian Boarding Schools (Garland, 2000).