Reference
Creator: ABC-CLIO
Description: This article covers the workforce participation of women during World War II in largely defense industries.

Context and Things to Consider
Compare the employment open to women before the war versus during World War II. How did opportunities change? In what fields?
What role did propaganda play in shaping attitudes toward women workers?
Pay attention to the levels of participation in wartime industries and consider the opportunities for women's work following World War II.
Working Women during World War II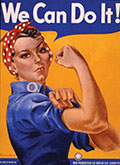 More than 19 million women joined the U.S. workforce during World War II. The nation's patriotic fervor fueled by the government's propaganda had made working outside the home more acceptable for middle-class women. The war allowed women to prove their competence in the male work sphere.
Filling Nontraditional Roles
Before the war, relatively few women worked outside the home, and those who did were mainly employed in service-oriented jobs. They were waitresses, domestics, secretaries, laundresses, telephone operators, and dishwashers. They also did light industrial work in garment factories and taught in schools. They were almost entirely excluded from such jobs in heavy industries as the production of cars, ships, airplanes, and steel. These and other jobs, like taxicab and public bus driving, were reserved for men. The general expectation was that women worked until they married and then their husbands supported them.
When war was declared, millions of men were drafted to fight, and women needed to step in for men in nontraditional women's jobs, especially those in heavy industry. The War Manpower Commission, the American Management Association, and the War Department went to work to change the nation's time-honored beliefs regarding women's proper roles in society.
A Propaganda Campaign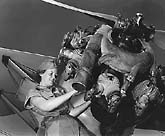 The Office of War Information began an all-out campaign to draw women into the war effort. It worked with magazine publishers and advertising agencies to disseminate the government's message. The Magazine Bureau was created in June 1942 and worked with 146 magazines that had an estimated 87 million readers. The bureau created the
Magazine War Guide,
which specified the goals and themes the government wanted stressed to the population.
Rosie the Riveter was a popular propaganda image of World War II. Dressed in the same clothes as a male worker and quite strong in appearance, Rosie showed women that they were capable of taking on defense work and showed the nation that women were just as competent as men (although they were paid significantly less than men for the same work). As a symbolic poster character, Rosie was part of the U.S. government's publicity campaign to encourage women to join the workforce
A Return to the Status Quo
The War Advertising Council was created to accomplish a twofold goal: get women into the labor force, and make the rest of the population accept female workers. In 1939, women had comprised 15% of the labor force producing such durable goods as weapons, ammunition, and aircraft. By 1943, 34% of all ammunition workers, 11% of all steel workers, 10% of all personnel in shipping, 8% of all railroad workers, and 40% of all aircraft industry workers were women.
Nevertheless, when victory was declared, the days of women working in traditionally male jobs came to an abrupt end. Women were laid off, and their jobs were given to the soldiers returning from the war. It appeared that women were a labor reserve that would be used only in times of crisis.
ABC-CLIO