Reference
Author: Julie Dunbar, managing editor of World Geography: Understanding a Changing World.
Description: This reference article examines how and why COVID-19 spread so quickly, as well as its impacts around the world.

Context and Things to Consider
Think about how and why the COVID-19 pandemic is so large.
Consider the health, social, and economic impacts of COVID-19.
Compare this epidemic to the Black Death and smallpox in the early Americas, as well as the Ebola outbreak of 2014–2016, and think about what is the same and what is different.
Geography and the COVID-19 Pandemic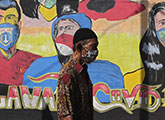 In 2019, a new respiratory virus called COVID-19 was discovered in the city of Wuhan in China. The origins of the virus are not conclusively known, but a leading theory is that it was originally passed from animals to humans in a market in Wuhan. The virus affects patients differently—some exhibit no symptoms, others experience flu-like symptoms, and still others experience respiratory distress and death. Because the virus was relatively unknown and many people were unaware they'd been infected, the highly contagious virus spread rapidly around the world, infecting nearly 270 million people within two years of its discovery.
Origin and Spread of COVID-19
Although discovered in 2019, COVID-19 didn't become widespread in China until early 2020. In response to the virus, which began spreading in earnest at the start of the Chinese New Year celebrations, China quarantined more than 50 million people. Virtually all forms of transportation were shut down, including airports, in an effort to limit the spread of the virus. Nevertheless, cases in mainland China surged above 60,000. In response, officials enacted additional containment measures, such as restricting road access to only essential vehicles and detaining anyone attempting to escape from the lockdown areas. Infection numbers rose above 80,000 before the containment efforts proved successful. By April, China was reporting zero deaths from the virus and fewer than 40 active cases.
In late January, as cases were skyrocketing in China, the World Health Organization declared COVID-19 a public health emergency. Countries such as the U.K., Australia, and the United States began issuing travel bans restricting air travel to and from China. By February, however, COVID-19 cases began to appear in Europe, Asia, and the Middle East. The World Health Organization declared the worldwide outbreak a pandemic in early March, raising the emergency to its highest level. By the time of the announcement, eight countries, including the U.S., were reporting more than 1,000 cases within their borders, and the virus had infected nearly 120,000 globally. Within a week, global infections had passed 200,000.
Impact of COVID-19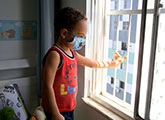 In a global effort to curb the spread of COVID-19, many countries began implementing "social distancing" policies aimed at keeping people physically separated. As the virus spread, a number of local and national governments imposed quarantines and other measures, such as banning sporting events and other large gatherings and moving classroom lessons from in-person to online settings. Additional local, regional, national, and international travel bans were also imposed.
As in earlier epidemics, incidents of xenophobia increased as populations began to feel the health, social, and economic impacts of the pandemic—this time, many Asian people in non-Asian countries around the world faced discrimination and violence. The quarantines also affected businesses, causing untold economic losses as factories and workplaces were shut down and people were told to remain in their homes. Many businesses could not afford the losses and closed permanently. Others resorted to lay-offs to reduce costs.
As financial losses grew, several countries took steps to end their lockdowns, with the hope of stimulating the economy. As health experts had warned, however, ending the lockdowns resulted in case surges over the summer. As more people began gathering indoors in the fall and winter, multiple countries began experiencing new surges in cases. Countries such as Belgium, Germany, Poland, and the U.S. reported new record high infections. By the end of 2020, deaths worldwide were just under 1.5 million.
Impacts of Globalization
Numerous pharmaceutical companies around the world, supported by the WHO, began developing vaccines in early 2020. Though vaccines normally take years to develop, pharmaceutical companies endeavored to provide safe, effective vaccines in just months. By mid-to-late 2020, a handful of vaccines were showing success in trials in the U.S., Germany, China, Russia, and the U.K. In September, Russia began inoculating citizens with its Sputnik V vaccine, although it had not completed all trials. One vaccine, developed jointly by U.S. company Pfizer and German company BioNTech, completed all trials and was approved for emergency use in the U.K. and the U.S. by the end of 2020. Other vaccines would receive approvals around the world in the coming months.
Like the Black Death, smallpox, and Ebola, COVID-19 spread from country to country by way of travelers. However, the Ebola outbreak and the COVID-19 outbreak spread much more quickly because of air travel. While Ebola is far deadlier than COVID-19, the COVID-19 pandemic has killed far more people for one key reason: when someone contracts Ebola, symptoms escalate rapidly, rendering the vast majority of patients bedridden and unable to spread the disease. COVID-19 symptoms, however, escalate slowly, if at all. Those infected with COVID-19 may spread the virus without even knowing they have it. While many governments responded fairly quickly with measures to mitigate the spread of COVID-19, in most cases the responses proved unequal to the task. Global cooperation, however, resulted in the development of vaccines for the virus—the most promising option for containment—in record time.
Julie Crea Dunbar
Julie Dunbar is the editorial manager for ABC-CLIO's suite of databases, including World Geography: Understanding a Changing World, World History: The Modern Era, World at War, and Issues: Understanding Controversy and Society. She received her BA in human geography from the University of Colorado, Boulder, an MFA in writing from Naropa University, also in Boulder, and completed graduate coursework in history at the University of Texas, Arlington. She is author of Exploring World History through Geography: From the Cradle of Civilization to A Globalized World (ABC-CLIO, 2022).