Reference
Author: Karen Taborn
Description: This reference article provides an overview of music in the Harlem Renaissance, including stride piano playing, nightclubs and ballrooms, and big bands of the swing era.
Context and Things to Consider
Note how the night life in Harlem laid the groundwork for new musical innovations and styles.
What is stride piano playing? Consider the influence of the style on the development of jazz and, later, swing.
Look at the role of nightclubs and revues, particularly famous clubs and ballrooms like the Cotton Club and Savoy Ball Room, and consider their influence on Harlem as a center for jazz and entertainment during the 1920s and 1930s.
Music in the Harlem Renaissance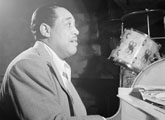 Stride piano playing, cabaret singing, and early big bands were African American innovations of the Harlem Renaissance. These were specific developments that formed within Harlem rent parties, night clubs, cabarets, and speakeasies. They paralleled but differed from other musical innovations of the era, such as concert music formed from folk spirituals and the blues and the development of black musical theater. The New Negro movement helped to shape and affect musical theater and the blues.
At the beginning of the 20th century, many African Americans migrated from the South to the urban North. Many settled in Harlem between 133rd and 134th streets and Lenox and Seventh Avenues. Theaters presenting movies, music, and drama began catering to a black clientele as early as 1905. Most theaters, however, started out racially segregated with all-black or all-white management and patronage and only desegregated gradually over the years. In 1920, Prohibition was enacted. The outlawing of liquor ensured that speakeasies flourished. Black musicians, singers, and dancers found themselves immediately at home in Harlem. Music in Harlem was developing from the turn-of-the-20th century musical forms of ragtime, blues, and vaudeville music.
Stride Piano Playing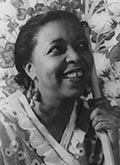 Stride piano playing is a highly creative form of music with borrowings from ragtime, the blues, and often 19th-century European classical piano literature. Stride piano was a starting point from which older piano styles further evolved into jazz. It featured counter rhythms between the left and right hands at very rapid tempos. The dexterity of stride players reached such a level that pianists were capable of using both hands to perform two different melodies at once. This was coupled with a heightened sense of creativity and inventiveness. Music at large—melody, rhythm, and form—was in a constant state of re-creation through the pianists' improvisational techniques. These methods held a broad cross-generational appeal. Stride piano was incorporated into numerous jazz innovations in the 1920s through the 1930s swing band craze and beyond.
In 1920, the first successful commercial blues recording, "Crazy Blues," was released. It featured stride pianist Willie "the Lion" Smith along with Addington Major on cornet, Ward "Dope" Andrews on trombone, and Ernest "Sticky" Elliot on clarinet, accompanied by cabaret singer Mamie Smith. The recording became a smash hit. It launched a flood of similar recordings, giving rise to an era that came to be known as the Classic Blues Craze. This phenomenon kept many female cabaret and blues singers and their accompanists working for a decade. Ethel Waters was one of the most successful cabaret singers to bridge vaudeville and jazz at the turn of the 19th century. Her stage presence and sense of drama set stylistic jazz performance trends. She toured and recorded with the Fletcher Henderson Orchestra in the early to mid-1920s; with Coleman Hawkins, James P. Johnson, and Clarence Williams in the late 1920s; and with Duke Ellington in the 1930s.
Nightclubs, Theaters, and Ballrooms
The large popular entertainment venues in Harlem—nightclubs, ballrooms, and theaters—were employment sources for vernacular musicians. Generally, nightclubs and ballrooms provided floor space for patronage dancing. Theaters featured several different acts in a given evening or off-Broadway musical shows for seated audiences. The large nightclubs, including the Cotton Club, Connie's Inn, and the black-owned Smalls' Paradise, and the ballrooms, including the Alhambra and the Renaissance, typically featured revues. Revues were a full evening of entertainment including the club's house band, a featured singer, a tap dancer, five or six chorus girls, and a comedian—all for about $1.
The most famous orchestras during this period took up residence at the three major nightclubs. Allie Ross's Orchestra was at Connie's Inn from 1926 to 1929. They were replaced by Carroll Dickerson's Orchestra, which included Louis Armstrong on trumpet. Charlie Johnson's band was at Small's Paradise for about 10 years after its opening in 1926. And the most prominent big band—the Duke Ellington Orchestra—was the house band at the Cotton Club from 1927 until 1931.
Swing
In the 1930s, swing music and the dancing that went along with it reached its peak. Live radio broadcasts of swing bands aired throughout the country and Harlem dance halls were crowded as never before. Even though several of the leading swing bands were based in other cities, Harlem maintained a dominant role as the acknowledged entertainment center of jazz. This primarily was due to the Cotton Club revues (the Club moved downtown in 1936) and the fame of the Savoy Ball Room. These revues featured three shows per night—a format that was replicated nationally in similar venues. The Savoy comprised an entire Harlem block. It was large enough to hold 5,000 people inside with two stages for fully sectioned, consecutively playing swing orchestras. It hosted nationally recognized swing band battles that pitted regional orchestras against each other.
Despite the popularity of the Savoy Ballroom and the Cotton Club, the Great Depression of the 1930s had a profound effect on Harlem. Many clubs closed during the Depression years and black musicians began to find more lucrative employment in downtown Manhattan. Moreover, a handful of stride-based, swing band pianists were working in other parts of the country, but they occasionally played in Harlem clubs. These pianists incorporated stride solos into orchestral arrangements as Ellington had done in the late 1920s.
Karen Taborn
Karen Tabor holds MAs in jazz from New York University and ethnomusicology from Hunter College. She has taught at The New School University, New York, and the City University of New York (CUNY). She is the author of Walking Harlem: The Ultimate Guide to the Cultural Capital of Black America (Rutgers University Press, 2018).