Image
Author: President Donald J. Trump
Description: This image shows a tweet from President Trump on news of the stock market and the U.S. killing of the leader of ISIS.
Date: October 28, 2019
Context and Things to Consider
Note the number of followers Trump has, as well as the number of retweets and likes this tweet received. Consider how many people had access Trump's words through this tweet, as well as their ability to engage with the tweet and even respond to it.
Think about what differentiates social media platforms like Twitter from more traditional forms of media like newspapers, radio, and television. Consider the fact that the content published on traditional media is often curated by private companies or public organizations, while anyone can write and publish a tweet in seconds.
Pay attention to the content of the tweet, which references the U.S. killing of the leader of ISIS, Abu Bakr al-Baghdadi, and the S&P 500, a stock market index used to measure the stock market as a whole. Abu Bakr al-Baghdadi was killed on October 27, 2019, and the S&P hit a record high on October 28, the day Trump posted this tweet. Think about the speed at which Twitter allows information to be published and spread widely.
Tweet by Donald Trump touting economic prosperity and death of ISIS leader (Oct. 28, 2019)
Tweet by President Donald Trump touting the nation's economic prosperity and death of ISIS leader Abu Bakr al-Baghdadi, October 28, 2019. Donald Trump has been the first U.S. president to use social media, and Twitter in particular, as a major method to make informal and official statements to the public.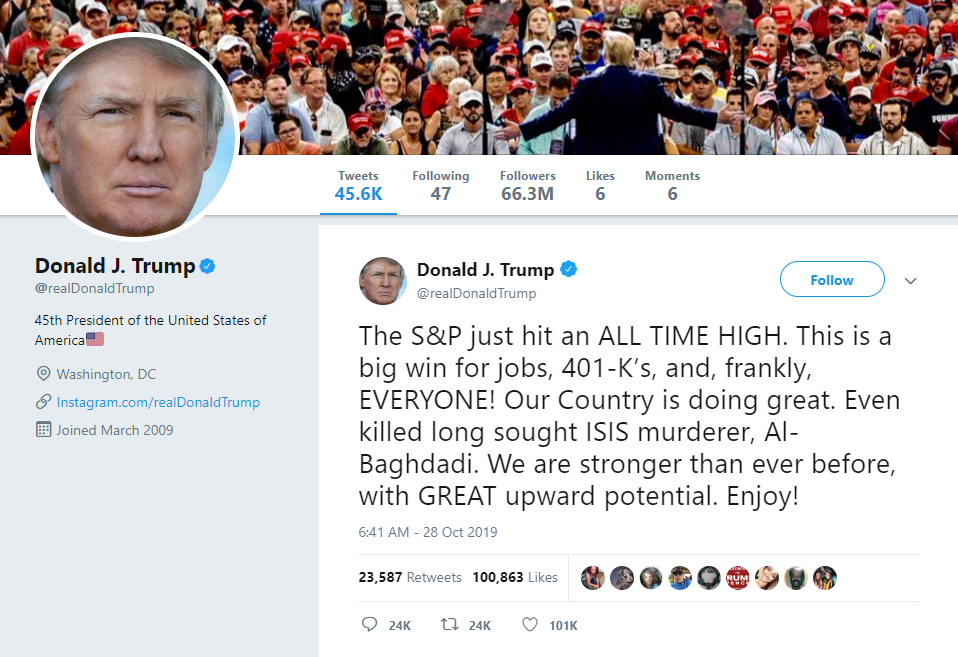 [Twitter]