Little Rock, Arkansas School Desegregation
Lesson Plan - Bell Ringer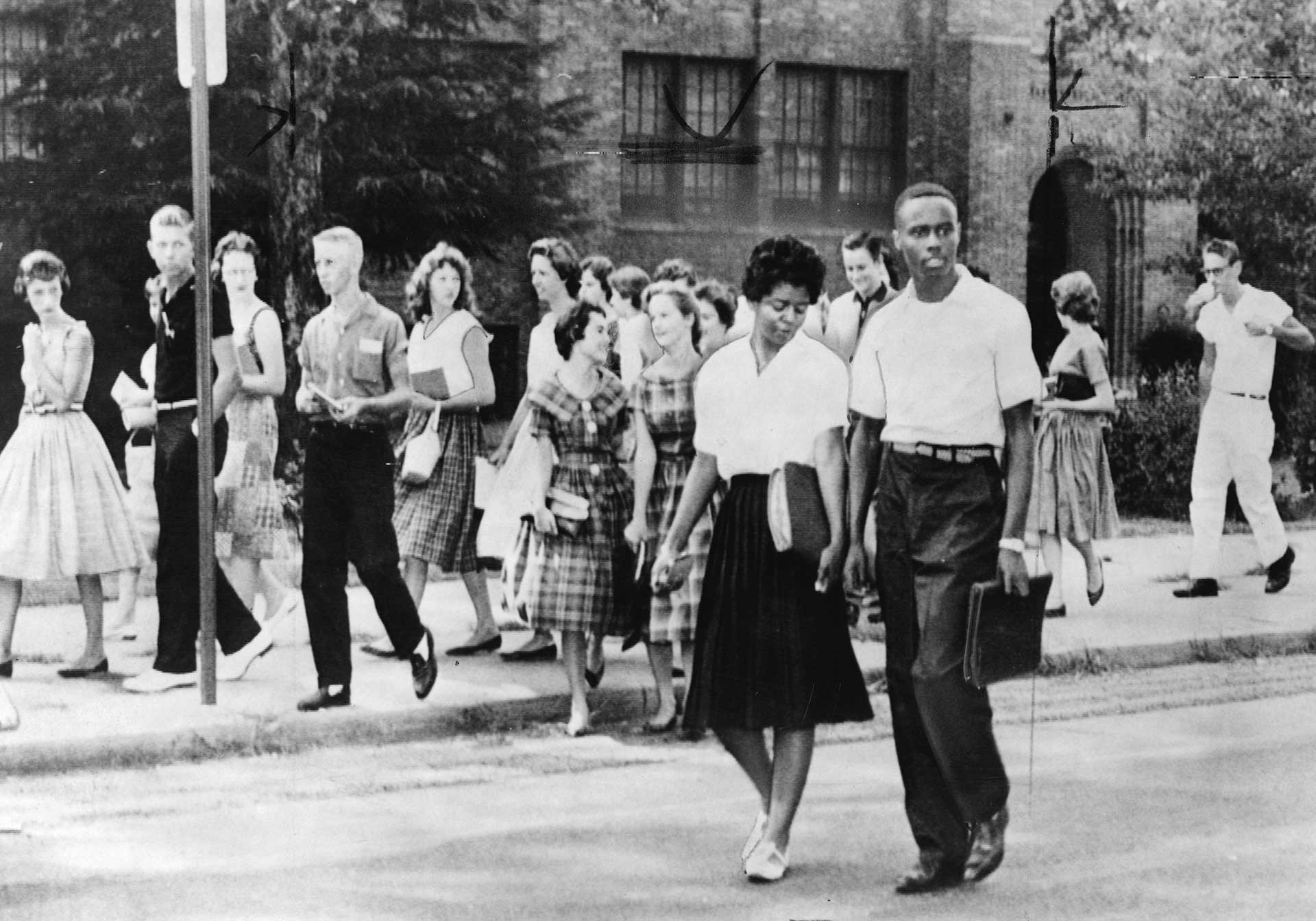 Enlarge Image +
ABC-CLIO Database: The African American Experience
Time Period: Civil Rights Movement, 1950-1965

Overview:
The routine "Question Starts" gives students the opportunity to practice developing good questions that provoke thinking and inquiry into a topic. It also helps students brainstorm different kinds of questions. The purpose of asking deep and interesting questions is to get at the complexity and depth of a topic.
Student Action:
Display the image to the class or provide hard copies to the class. If needed, you may want to provide some background information about desegregation in Little Rock.
Ask students to conduct the following:
Brainstorm a list of at least 12 questions about the topic, concept, or object. Use these question-starts to help you think of interesting questions:

Why...?
What are the reasons...?
What if...?
What is the purpose of...?
How would it be different if...?
Suppose that...?
What if we knew...?
What would change if...?

Review the brainstormed list and star the questions that seem most interesting. Then, select one or more of the starred questions to discuss for a few moments. The teacher should facilitate this conversation.
Reflect: What new ideas do you have about the topic, concept or object that you didn't have before?
Suggested Scaffolds:
Ask students to develop questions in pairs.
Annotate the image or provide background knowledge.
Reduce the number of questions to brainstorm.
Connecting History to the Present/Conceptually:
Ask students to do a web search on current public school segregation and to summarize their findings. How integrated is their school? Facilitate a discussion on the topic and identify some "next steps" students can take.
Craig Perrier
Craig Perrier is the High School Social Studies Curriculum and Instruction Specialist for Fairfax County Public Schools in Fairfax, VA. He also is an online adjunct professor of education for Framingham State University and the teacher certification program, Educate VA. Previously, he taught at American Schools in Brazil for six years and for six years in public schools in Massachusetts. After leaving the classroom, Craig was the Coordinator for Curriculum and Instruction for Social Studies and History at Virtual High School and then the PK-12 Social Studies Coordinator for the Department of Defense Dependent Schools. He has consulted for World Savvy, IIE, iEARN, ABC-CLIO, Knovva Academy, and the U.S. Department of State Office of the Historian. In addition, Craig has an M.A. in Global History and an M.Ed in Secondary Education and serves on advisory boards for The American Historical Association and the National Humanities Center. He maintains a blog "The Global, History Educator" and is the creator of the free online teacher resource "U.S. History in a Global Context." You can follow him on twitter @CraigPerrier.
MLA Citation
Perrier, Craig J. "Little Rock, Arkansas School Desegregation." ABC-CLIO Solutions, ABC-CLIO, 2021, educatorsupport.abc-clio.com/Support/Display/2228988?cid=336&productId=1. Accessed 16 Sept. 2021.