East Asian Economies
Activity
1
Instruction
In this activity, you will learn about the postwar economic booms in East Asian economies. Then complete a Venn diagram and analyze the similarities and differences between the economies of Japan, China, and the "Four Asian Tigers."
Enlarge Image +
3
Activity Worksheet
As you explore the sources, print and use this
worksheet
to help keep track of your findings and answer the Inquiry Question.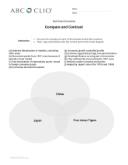 MLA Citation
"A Multipolar World: Rise of China Activity: East Asian Economies." ABC-CLIO Solutions, ABC-CLIO, 2022, educatorsupport.abc-clio.com/Support/Activity/2257302. Accessed 8 Dec. 2022.